Choosing the Best Hedge Trimmer for Your Yard
Properly trimmed hedges and bushes are essential to maintaining the curb appeal of your home. They'll also help ensure privacy while providing optimal sun and wind exposure.
A hedge trimmer makes landscaping chores easier, as long as you choose the right model for the job. In this guide, we'll review the different types of hedge trimmers and their features to help you choose the one that's best for your yard.
Assessing Your Yard
Before selecting a hedge trimmer, take a close look at your lawn to determine the type of landscaping work required. It's important to take the following factors into consideration:
Overall yard size
Height and density of hedges
Number of shrubs and/or bushes
Proximity of hedges to walls or fencing
Amount of trims required per year
A large trimmer with good power is ideal for trimming dense hedges. A small hedge trimmer with a short blade is well suited to hedges situated next to fencing, because you can move the trimmer around tight spaces.
Types of Hedge Trimmers
There are four main types of hedge trimmers, each with its own unique features and benefits:
Electric Hedge Trimmers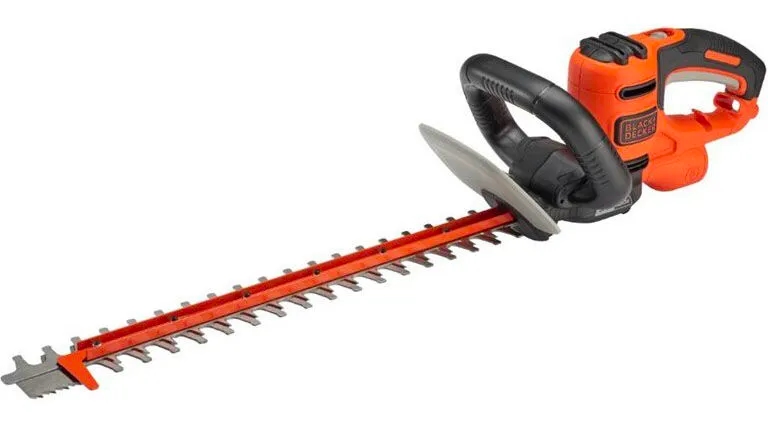 Electric hedge trimmers are lightweight, quiet, cost-effective and easy to use. They're a great choice for maintaining small to medium-sized yards, short hedges and occasional trims. An electric hedge trimmer doesn't produce any harmful emissions, but it does require a nearby outlet or extension cord.
Cordless Hedge Trimmers
A cordless hedge trimmer is simply an electric hedge trimmer that runs on battery power. It has to be charged before use, but this eliminates the need for an outlet and extension cord. Cordless hedge trimmers are a great option for small shrubs or the occasional trim, as well as homes without outdoor power outlets.
Gas Hedge Trimmers
A gas hedge trimmer is ideal for larger yards and commercial properties. It packs plenty of power and can easily cut through thick branches and bushes. Gas hedge trimmers can be used anywhere since they don't require power cords, outlets or batteries. However, they are also heavier, noisier and a bit more difficult to operate, especially for beginners. A gas trimmer also produces emissions and requires more maintenance than electric models.
Pole Hedge Trimmer
A pole hedge trimmer offers an extended reach, so you can trim hedge tops without a ladder. It's the best and safest choice for yards with very tall hedges. This model is also a fantastic option for low-level landscaping work that requires a long reach.
Hedge Shears
A pair of manual hedge shears can be a useful complement to your power trimmer. They're great for getting at hard to reach spots a trimmer can't safely access, and for addressing small sculpting jobs that don't require a full trim. And if you only have a few small hedges, a good pair of hedge shears may be all you need.
Hedge Trimmer Features
It's important to consider weight, blade type and other relevant features when shopping for a hedge trimmer.
Why Weight Matters
The weight of a hedge trimmer determines how easy it is to operate. A heavy gas hedge trimmer is more cumbersome and therefore more difficult to use than a lightweight, cordless model.
Heavy hedge trimmers are more powerful, so they require more experience to ensure safe and effective use. Using a heavy hedge trimmer for tall or extended trimming jobs can also cause fatigue, which in turn can pose a safety risk.
How to Choose Your Blade
Blade length, the number of sides and the spacing of teeth helps determine the types of cuts you can make with your hedge trimmer.
Long vs. Short
Long blades make it easier to trim quickly and evenly, but also make the trimmer heavier and more difficult to wield. Short blades are ideal for beginners because they're easier to manipulate. A short blade is also perfect for small hedges, shrubs or more intricate work.
Single or Double-Sided
Single-sided blades are ideal for beginners because they're safer to operate; you simply keep the cutting edge faced away from you. Double-sided blades require more attention and experience. It makes landscaping work quicker and also provides more versatility and shaping ability.
Tooth Spacing
The distance between teeth on the blade determines the size of the branch it can cut. A ¾-inch gap between teeth is the most common option because it works on most hedges. If your yard has huge hedges with thick branches, one-inch spacing on the blade would be most effective. For small or delicate shrubs and bushes, choose a blade with 3⁄8-inch spacing.
Other Features to Keep in Mind
There are also others elements that make a hedge trimmer more effective and easier to use. These features may be included with the machine, or available to purchase separately for personal customization.
Extra Batteries
Keeping charged extra batteries on hand for your cordless hedge trimmer helps ensure you have enough power for long or more complex trimming jobs.
Fuel Tank
Gas powered hedge trimmers have a clear fuel tank, so you can check your fuel levels at a glance.
Pigtails
A pigtail is a short cord that attaches to your extension cord to prevent accidental disconnection while using an electric hedge trimmer.
Pole Extension
A pole extension allows you to trim hard-to-reach or high areas.
Wraparound Handle
A wraparound handle on a hedge trimmer helps you maintain a comfortable hold, no matter the angle.
Hedge Trimmer Safety Tips and Features
It's important to remember that hedge trimmers can cause damage and injury if not used properly. Always use caution, pay attention and be sure to utilize these safety features that are found on most machines:
Automatic Brake
An automatic brake stops the blade instantly when you turn the power off to help reduce accidents and injuries.
Dual Switch
A dual switch on a hedge trimmer requires you to use both hands to start the machine, increasing safety.
Hand Guard
The hand guard protects your hands from falling debris while trimming.
Off-Lock
Using an off-lock on a hedge trimmer prevents anyone from turning it on. This is an important safety feature for homes with pets or children as it prevents the trimmer from being accidentally turned on.
Personal Protective Equipment
Investing in personal protective gear is essential. Safety glasses help protect your eyes from flying leaves, twigs and other debris. Ear plugs or ear protectors should be worn when using gas powered hedge trimmers. Work gloves will help you keep a firm grip on the handle, and keep your hands protected from falling brush.
Tooth Extensions
A tooth extension puts more distance between you and the blade, so you don't accidentally cut yourself.
Now that you have a better understanding of hedge trimmers and their features, you're ready to choose the model that's right for your lawn. Shop our range of trimmers to find your ideal machine and keep your yard looking beautiful!